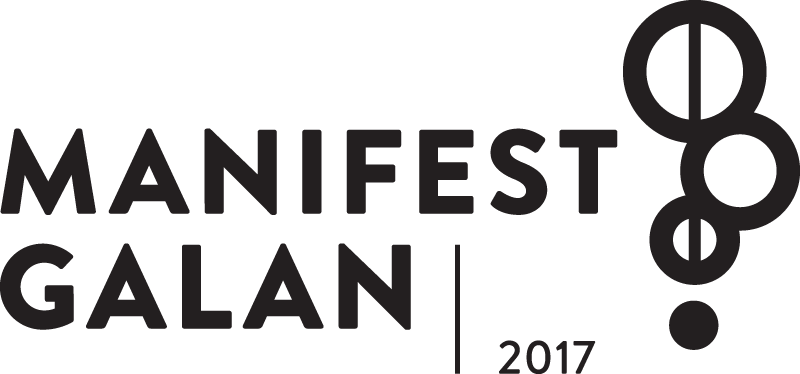 Svenska Oberoende Musikproducenter har glädjen att presentera de nominerade till Manifestgalan 2017.
Årets upplaga av Manifestgalan äger rum 10:e februari på Nalen i Stockholm. Manifestgalan är musikgalan som premierar musiker och artister på oberoende skivbolag och i år delas pris ut i totalt 21 olika kategorier. Galan genomförs i år för femtonde året i rad och kommer som vanligt vara fylld av spännande liveframträdanden. Biljetterna släpps nästa vecka.
Nominerade till Manifestgalan 2017:
Hårdrock
Gadget – The Great Destroyer (Relapse Records)
Lava Bangs – Quit Continue (Lovely Records)
MaidaVale – Tales of the Wicked West (The Sign Records)
Cult of Luna & Julie Christmas – Mariner (Cult of Luna/Julie Christmas)
Dans
Harald Björk – Kris- & Konflikthantering (Kranglan Broadcast)
Skudge – Balancing Point (Skudge Records)
Kornél Kovács – The Bells (Studio Barnhus)
Dan Lissvik – Midnight (Smalltown Supersound)
Folk
232 Strängar – Spunnet (Egen utgivning)
Anders Löfberg – Nittonbunda (Playing with Music)
Tarabband – Ashofak Baden (Kap Syd/Plugged)
Ulrika Bodén med Ahlberg, Ek & Roswall, Petter Berndalen & Daniel Fredriksson – Te berga blå (Dimma Sweden)
Punk
Wolfhour – Dead on Arrival (Kibou Records/Global Resistance Records)
Oldfashioned Ideas – Another side to every story (Contra Records)
Ursut – Köp Dig Lycklig (Not Enough Records/La Familia Releases/4490/Phobia)
Perkulator – Perkulator (Crush & Create Records)
Visa
Emil Jensen – Två naturliga armar (Adrian Recordings)
Jenny Almsenius – Hjärtat slår mot asfalten (Gamlestans grammofonbolag/Border)
Iiris Viljanen – Mercedes (Voi Elämä!)
Sarah Riedel – tolkar Kristina Lugn (Diesel Music)
Hiphop/RnB
Saint – The New Funky Dread (Today Is Vintage)
Överklass – Överallt & Ingenstans (This Is Scandinavia/SwingKids)
Cherrie – Sherihan (RMH Sound)
Erik Lundin – Samlad årsproduktion (RMH Sound)
Barn
Emma Nordenstam – Emma Nordenstams bästa barnlåtar (Brus & Knaster)
Mamman & Pappan – Våga (Dahls Toner & Rytmer)
Anna Einarsson – Tigern säger Brr (Anna Einarsson Music)
Nassim Al Fakir – Springer runt och säger hej (Cosmos)
Dansband
Sannex – Din sida sängen (Atenzia Records)
Casanovas – Kom och sjung halleluja (Atenzia Records)
Blender – Ängel utan vingar (Blender Records)
Highlights – Vackrare än någonsin (Neptun)
Experimentellt
Aina Myrstener Cello – Cellomusik II (Flora & Fauna)
Klas Nevrin – The Revoid Ensemble (Found You Recordings)
Neutral – Neutral (Omlott)
Ann Rosén & Stockholm Saxophone Quartet – Bredvid (Schhh Records)
Synt/elektroniskt
Spark! – Maskiner (Progress Productions)
Red Mecca – Electricity (Massproduktion)
Roya – Trax (Roya)
Covenant – The Blinding Dark (Dependant)
Singer/songwriter
Brothers Among Wera – Fictional Takes (Icons Creating Evil Art)
Thomas E Frank – Tre månader (Omlott)
Amanda Bergman – Docks (Amanda Bergman/INGRID)
Christian Kjellvander – A Village: Natural Light (Startracks)
Rock
Real Tears – Too Cool To Rock (Snask Rekårds)
True Moon – True Moon (Lövely Records)
Moon City Boys – I Need More (Törncrantz rock'n'roll)
Lion's Den – Lion's Den (Lazy Octopus)
Jazz
Cecilia Persson & Norrbotten Big Band – Composer in Residence (Prophone)
Tonbruket – FOREVERGREENS (ACT)
E.S.T/Esbjörn Svensson Trio – E.S.T Symphony (ACT)
Lina Nyberg – Aerials (HOOB records)
Pop
The Radio Dept. – Running Out of Love (Labrador)
Farväl till ungdomen – Öronbedövande mörker (Luxury)
Frida Hyvönen – Kvinnor och barn (RMV Label)
Pikko – Secret – (KaiLudvig)
Årets Live
Pascal (Novoton)
Iiris Viljanen (Voi Elämä!)
Viagra Boys (Push My Buttons/Year0001)
Silvana Imam (Refune Music)
Rytm
General Knas – Dancehall (SwingKids)
Sallyswag – Sallyswag (SwingKids)
Music Is the Weapon – Sweet Choral Motion (Fashionpolice Records)
Sofia Jannok – ORDA-This is my land (Gamlestans grammofonbolag)
Årets Musikvideo
Little Children – Every Little Light (Cosmos Music) Regi: Ted Malmros https://www.youtube.com/watch?v=sGITFfna88Q
El Perro Del Mar – Breadandbutter (Ging Ging Recordings) Regi: Nicole Walker och El Perro Del Mar https://www.youtube.com/watch?v=h7V5lnCA7DM
Erk, Cleo & Griljonären – Vamenarom? (Random Bastards) Regi: Erik Svetoft https://www.youtube.com/watch?v=TgwtBytBsv4
Maja Gödicke – Rokoko (Kning Disk) Regi: Ossian Melin https://vimeo.com/176308862
Wintergatan – Marble Machine (Sommarfågel) Regi: Hannes Knutsson/Martin Molin https://m.youtube.com/watch?v=IvUU8joBb1Q
SKAP:s och Manifests pris för årets textförfattare
Charlie Engstrand Sommar – En Näve Näring, (Dead Microphone) samt Nordic Noir/Toni Holgersson (Amigo/Cosmos)
Frida Hyvönen – Kvinnor och barn (RMV Label)
Isak Sundström/Mimmi Skog/ Manuela De Gouveia – Pascal – Revy (Novoton)
Parham – Hemma Här (Playground Music)
SKAP:s och Manifests pris för årets kompositör
Conny Bloom – Fullt upp (Kronbloom Records)
Sofia Härdig – And the Street Light Leads to The Sea (Solaris Empire)
Christian Kjellvander – A Village: Natural Light (Tapete Records, Startracks)
Josefin Öhrn – Josefin Öhrn & The Liberation – Mirage (Rocket Recordings)
Årets nykomling
Call Cat https://www.facebook.com/callcatofficial/
GREiP https://www.facebook.com/GREiP-926430530797133/
Neon Nox https://www.facebook.com/neonnox/
Death by Horse https://www.facebook.com/deathbyhorse/
Lyssna på samtliga nominerade här:
https://open.spotify.com/user/manifestgalan/playlist/647n31Jb4sKp8ZyTaW4rUb
Manifestgalan inleds med ett liveframträdande av en av de akter som medverkat under årets Manifest on Tour. Denna akt väljs ut under Manifest on Tours nationella showcase som äger rum 9:e februari på Nalen Klubb.